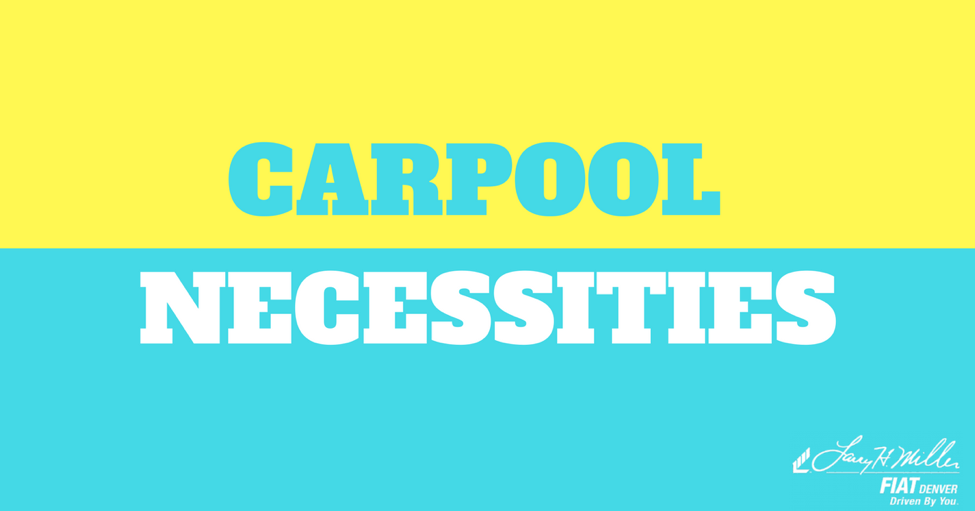 We're transitioning into fall and you know what that means: time for the carpool rotation. Early mornings and screaming kids aren't anything you and your all-new FIAT 500X can't handle. We know you may be nervous heading into yet another school year, which is why we've compiled a helpful list of carpool necessities to keep in your FIAT at all times!

?1. Wipes
Where there are little kids, there are sticky hands. It's inevitable for your FIAT to not get a little messy when you're lugging around kids to school juice box in tow. Having easily accessible wipes will ensure you're able to wipe up any mess as soon as it happens. ?
While you're handling everything in the front seat, you want to make sure your little ones are enjoying themselves in the back. We recommend having an upbeat playlist featuring their favorite Disney music soundtracks. Carpool doesn't have to be stressful—have some fun with it!?
Make your life a lot easier by having a car organizer that straps onto the back of your front seats. You're able to store electronics, your cleaning wipes (as mentioned above), toys, and books. This way, your carpool passengers won't have to bother you with finding their stuffed animals and you can focus on the road. ?
???

Be the safest parent on the block by having your safety kit handy. Small kids always seem to get into trouble and you need to be ready with band aids when that happens. It will fit nicely in your seat organizer and you'll be better off safe than sorry!
5. ?Snacks
What good is any car ride without snacks? When you're on carpool duty, make sure to stock up on apple sauce packets, cheerios, and gold fish. The only thing worse than hangry adults are hangry elementary students early in the morning. We recommend saving yourself from this debacle and always have snacks stored (in your car organizer of course)!
6. ?FIAT 500X
? You can't drive the carpool without an equipped vehicle. The all-new 2017 FIAT 500X comes with a spacious backseat with room for three. You also don't have to sacrifice trunk storage, which you'll need for storing backpacks, school projects, and extracurricular equipment.
??

We hope these recommendations help you prepare to be the most equipped parent in the carpool rotation this year. See our current inventory for the 2017 FIAT 500X and start this school year off right. Larry H. Miller Fiat Denver, located at 505 S. Havana St., Denver, CO 80012, is proud to offer services for all of your FIAT needs. Find us online or stop by to consult with one of our knowledgeable salespeople.