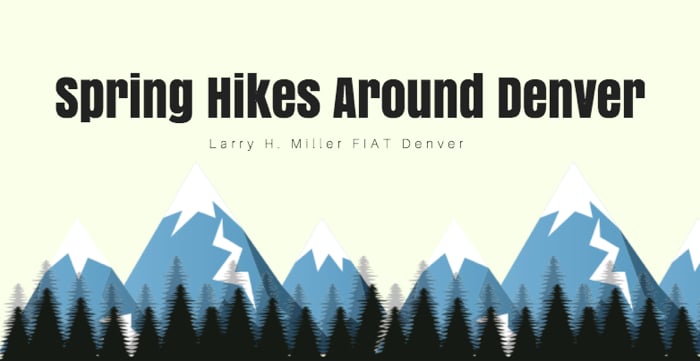 We live in a cold climate for about half the year, so when it starts getting warmer we want to rush outside. Although we still see a lot of snow through April and sometimes May, that doesn't have to stop you from grabbing your boots and hitting the trails. We've mapped out a few spots within a reasonable distance of the city for you to head to in the afternoon or on the weekends for some springtime hiking.
Alderefer and Three Sisters Park
This spot is about 40 minutes outside of town and easy to get to after work if you want to unwind with some stunning scenery. Don't be afraid of the snow here either because they see an early spring, not a late winter. We still recommend a sweatshirt though this time of year.
South Rim Loop at Roxborough State Park
You'll want to post pictures from this hike as you enjoy the red rocks against a lush green backdrop. You can get here in 45 minutes from Downtown Denver and this is a fun area to explore with a friend. Bring your camera and favorite sweatshirt for an Instagram post.
Sunset Loop at White Ranch
For this destination, head to it later in the day. Take your morning and afternoon for coffee, brunch, and friends, then get here a bit before the sun goes down. It's a two-mile loop for you to stroll down and bask in the sun setting and once again, bring your camera.
We know you're excited to get out and up a mountain, but how exactly do you plan on getting there? You're going to need a ride with all-wheel drive and plenty of room for your gear. If you're wanting a vehicle a little bigger than a FIAT, we've still got you covered with our extensive pre-owned inventory. You'll have the option to choose between multiple SUVs and various brands you trust and will feel safe in during your excursions.
Browse all new-to-you rides
that we have here at the dealership and find the right set of wheels for your active lifestyle.