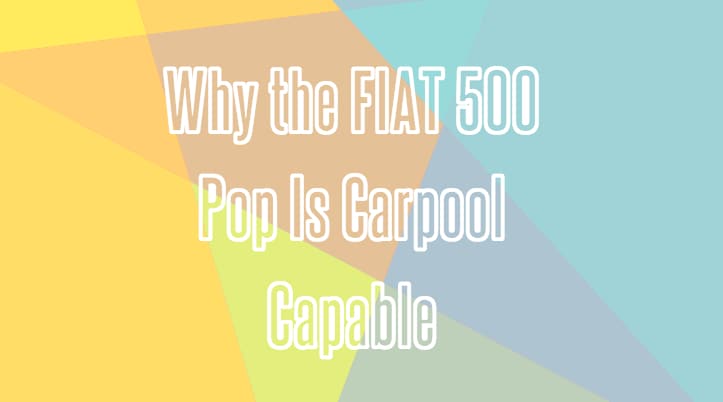 The best way to enjoy the summer sun is with friends or family at your side. The Fiat 500 Pop is a great driving option that is perfect for carpooling. So, before you skip over the Fiat 500 because it only has two doors, take a look at all the things that make it great.
When you think about carpooling, there are certain things that come to mind, especially things like fuel efficiency, interior space, and an overall fun experience.
Fuel Efficiency
Getting from point A to B can be expensive, so when your car is pulling its weight to cut down on gas expenses, it can be extremely helpful.
The FIAT 500 POP rocks an efficient 1.4L engine and five-speed manual transmission that the Environmental Protection Agency estimates has a fuel economy rating of 28 city/33 highway mpg. So you'll be getting more bang for your buck and more gas for your mile. So instead of worrying about how much your weekend drive will cost you, you can enjoy the company of loved ones.
Interior Space
Once you're inside, front seat passengers can enjoy 40.7 inches of legroom while passengers in the back can enjoy 31.7 inches. That's half the size of Danny DeVito! Yes, we did the math, and half of Danny DeVito could fit in that space. But if you don't need passengers in the back, you can fold down those rear seats and store around 30.1 cubic feet worth of cargo. That's 225 gallons of milk. That's a lot of milk.
The Experience
While you're cruising with your friends, open up the one-touch power sunroof and use the 5-inch, full-color touchscreen with Uconnect® 3 to turn up your favorite tunes, or do it completely hands-free!
If you decide to leave the top up, you can enjoy the Automatic Temperature Control feature. Just set your ideal temperature once and your car will work to warm or cool your car to that desired temperature regardless of the temperature outside.
In the end, the biggest reason to own a FIAT 500 POP is that it is just a fun car to drive. It's unique enough to set you apart and has enough features to keep your carpooling companions happy.
You can come in or schedule an appointment at https://www.larryhmillerfiatdenver.com/Larry H. Miller FIAT Denver and test drive one today and decide for yourself. Heck, bring along your carpoolers, because their opinions matter too.